Perfect Design
Pacy World web design can offer a complete web site solution built on Drupal with just $80. Drupal is a web site framework and content management system (CMS) that's easy to learn and use. A Drupal based web site will allow you to make edits using your web browser (Internet Explorer, Mozilla Firefox, or Safari) with a familiar rich text editor interface.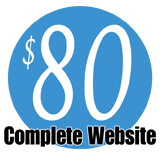 Custom HTML, PHP, Database, Adobe Flash, and graphic design services are also available. A 3 page standard** HTML web site starts at $80*. Pacy World can also perform basic SEO*** (Search Engine Optimization) on your web site at a low cost.

Call
1-888-875-0578
or
email
to get started.
*A standard 3-page site includes one 700x400 px header graphic, an optional logo graphic, and up to three page graphics with a maximum size of 250x250 px each.
**Your web site will be coded according to W3C XHTML guidelines, ensuring it looks nearly identical in any standards complaint web browser.
***Pacy World does not guarantee placement in Internet search engines.